About Shelf Cloud
We at Shelf Cloud put your digital assets into secure digital shelves. We provide web-based software for small businesses and individuals. Our services are built using Subversion, Mercurial, the Ruby on Rails framework and other state of the art open source technologies. Our servers are hosted in German data centres that are compliant to European privacy laws.
Our Products

Versionshelf
Git, Subversion and Mercurial Hosting - Effortless & Secure
Versionshelf gives you hosted Git, Subversion and Mercurial repositories with an easy to use admin frontend.
easily create git, subversion and mercurial repositories
import your existing repositories
access through secure 128-bit SSL data encryption everywhere
manage repository user accounts
rss feeds of your commit logs
create repository backups whenever you want with one click
web-based repository access
users can change their own repository passwords
trigger urls with post data after each commit

Bugshelf
Manage your projects with ease and style
Bugshelf is an unbloated and easy to use issue tracking software, spiced with ajax and tags.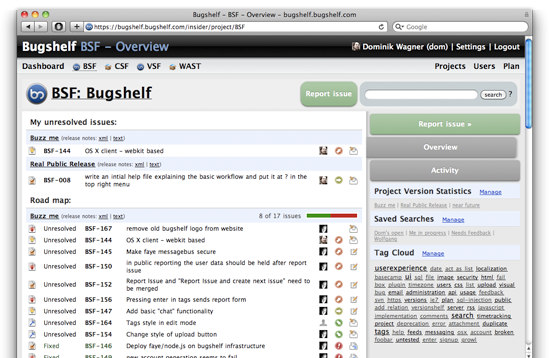 It originated as a custom solution for TheCodingMonkeys, the makers of SubEthaEdit and the iOS Game Carcassonne. Bugshelf is especially tailored for independent software vendors that do release based application development.
Get in touch
Press inquiries, partnership opportunities, and general questions, comments, and concerns should be sent to Thomas Steinhausen, the company founder, via .