Bugshelf released - the issue tracker for indies
We are proud to finally release our in-house issue tracker Bugshelf to the public.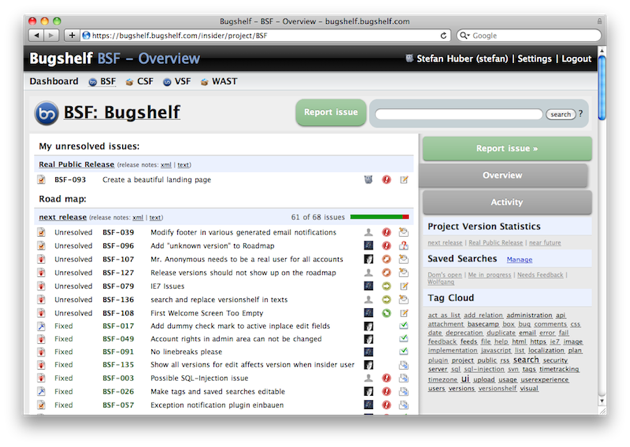 Initially created to coordinate the development efforts at The Coding Monkeys, we decided that our bug tracker might also be of great use for other independent software vendors.
Combined with the post commit hooks we integrated into our Subversion and Mercurial hosting service Versionshelf you get a nicely integrated package: just reference an issue by its number in a commit message and a comment with a backlink to the changeset gets automatically added to the issue. Even better you can also close issues with a simple commit.
Beyond its standard features like tagging, inline editing, powerful search, useful reports, attachments with image previews and lots of more stuff we are especially proud of the built in realtime awareness. With realtime awareness you and your team mates never miss changes to the filed issues. Each time someone changes any part of an issue you get a realtime notification. Relevant parts of the page automatically reload so you never look at outdated data.
Even better if you work on a Mac you can use the great Fluid site specific browser (blog post about Fluid pending). Combined with Growl you even get realtime notifications right to your desktop!

A click on the growl notification takes you straight to the changed issue. We are even thinking about implementing some kind of chat based on the message bus technology we used to implement realtime awareness.
If you want to find out how Bugshelf really feels and if its useful to you, just head over to the Bugshelf site and sign up to one of our affordable plans. The first 30 days are free so it's no risk to take the plunge and try Bugshelf.
If something does not work or you have ideas you would like to see implemented, please share your thoughts with us by just filing an issue at https://shelfcloud.bugshelf.com/ – our Bugshelf instance.